Halloween was a lot of fun. It wasn't exactly what I had envisioned, but I am learning to take what I can get and enjoy it. I hope this post doesn't come across like I am whining and complaining, but I think it is important to be real that sometimes things aren't always the way I think they ought to be.
I planned ahead and bought costumes several weeks ago. Each kid tried them all on. We returned several until we had it just right. And then the actual day of Halloween arrives. Suddenly no one is particularly happy about their costume.
First, Adam and Madelyn could wear their costumes to school as long as each was a character in a book. I had books for both of their costumes (spider man for Adam and a bumble bee for Madelyn). But Madelyn suddenly wanted to be Judy Moody (the girl in the book she had just finished reading). How do you do a Judy Moody costume? What is wrong with being the cute bumble bee that she chose? I didn't fight her on it. She let me know that Judy Moody just wears mismatched clothes and has messy hair. So I sent Madelyn to school looking like a hooligan. Her hair looked just like it looks every morning if I don't remind her to comb it and her outfit certainly didn't match.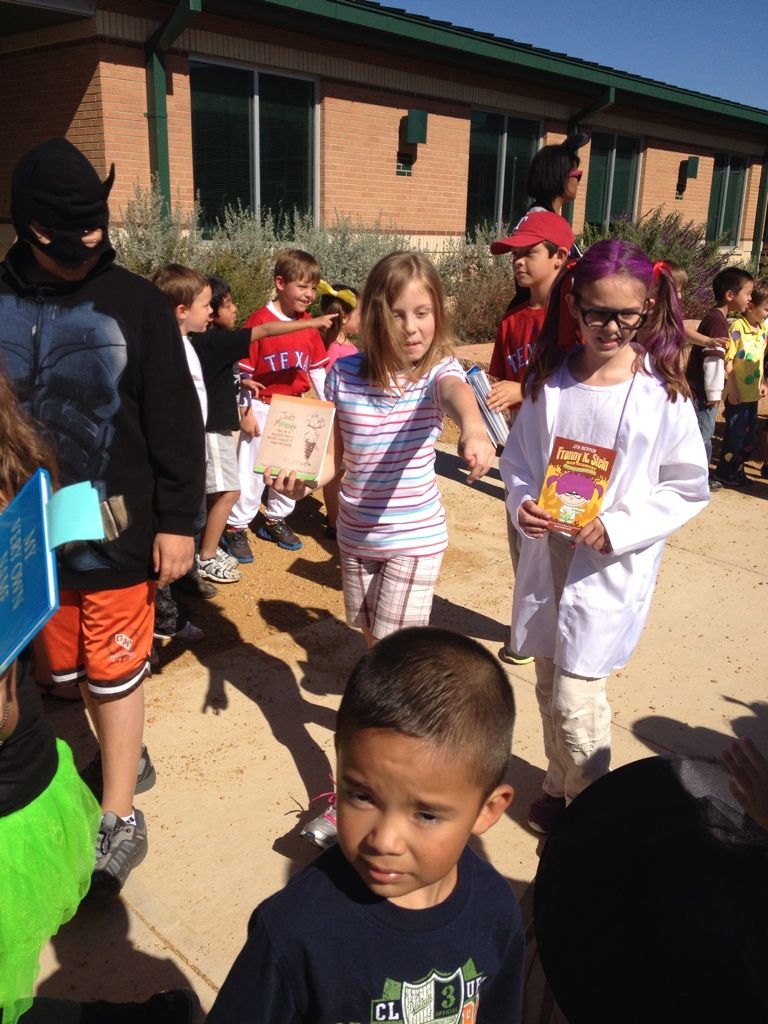 But she was happy. Adam that morning was unable to find his spiderman mask. He cried and cried and we looked and looked. I sent Madelyn out to the bus, but we could never find it. So he then decided he would be bumble bee the transformer. I found a book, and got him dressed and once he looked in the mirror though began to question whether kids would actually be wearing costumes. Especially since Madelyn just appeared to be badly dressed, not actually in a costume. But we got through it and he (very reluctantly and very madly) got on the bus.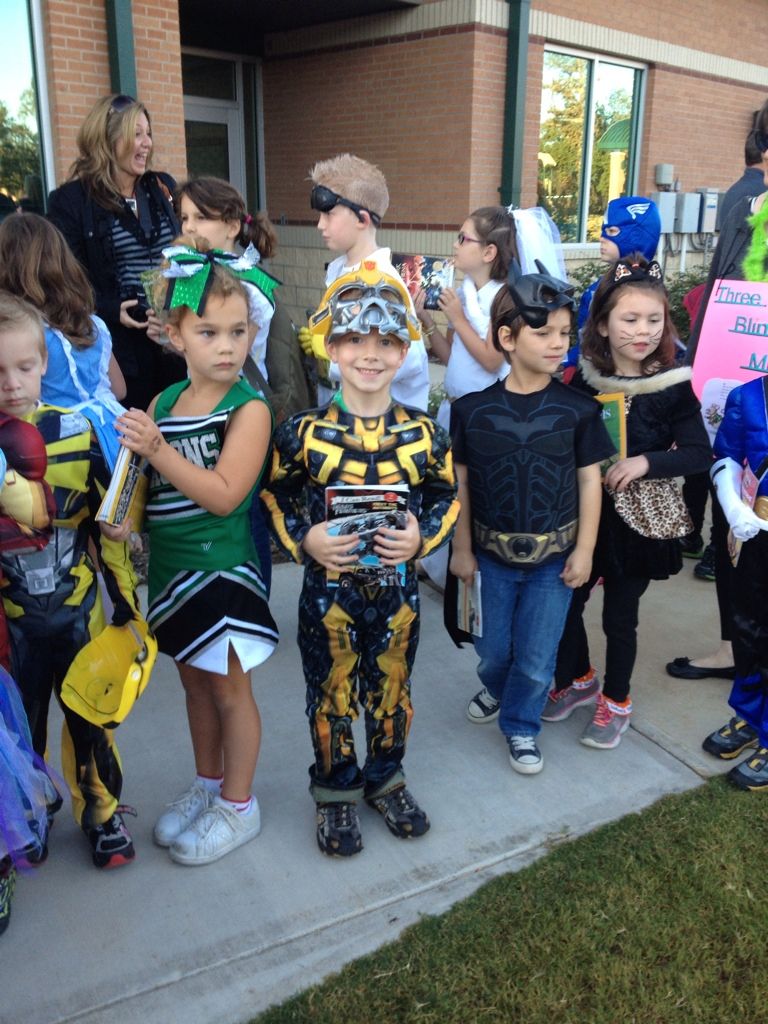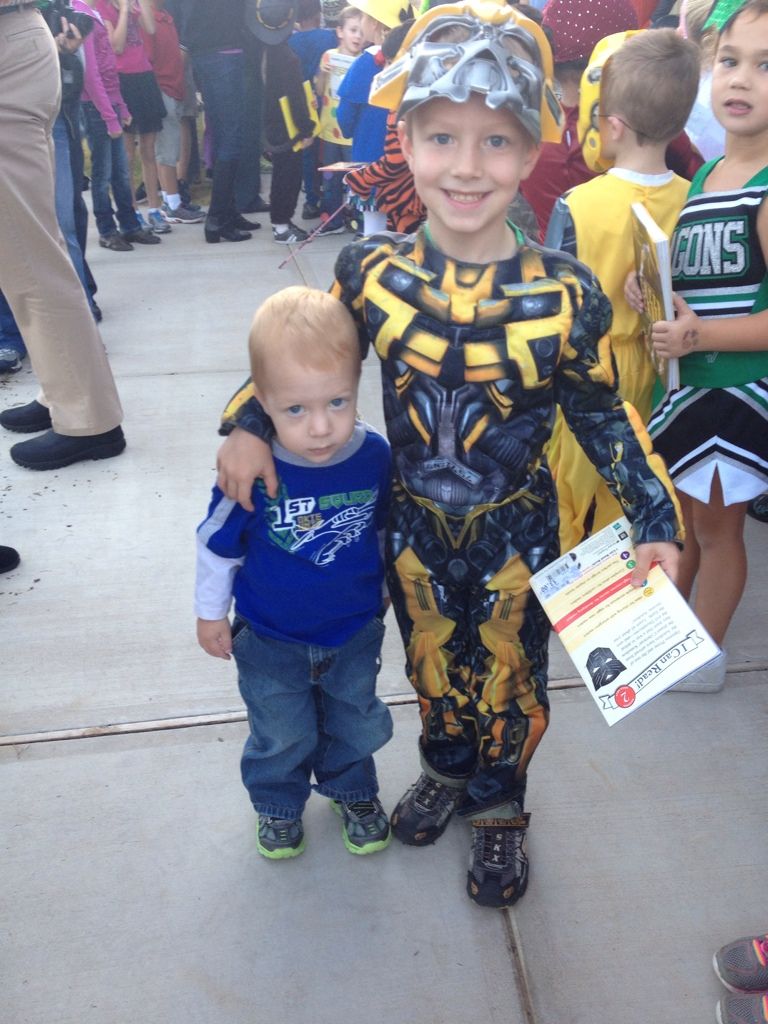 Once he got to school he was fine. In fact there were 3 other transformer bumblebees in his class alone.
Now it is just the older 2 girls at home getting ready for school. Catherine politely informed me then that she did not want to wear the Halloween shirt she had (that was new and that she chose) and told me that I was making her feel guilted into wearing it even though she did not want to. I not so politely yelled at her to just get dressed and I don't care what she was wearing but that I would probably NEVER buy her another shirt again.
Fortunately, Julianne just wore regular clothes to school and there wasn't an issue.
And now it is after school. I had dinner in the oven so that the kids could get a healthy something in them before the onslaught of candy. Adam and Madelyn got home and I helped them get ready. Madelyn got in her bumble bee costume and Adam started crying. Now he doesn't want to be spiderman (since he can't find the mask) and he doesn't want to be Bumble Bee the transformer anymore. And he doesn't know what to do. There is a lot of crying. And in the end he settled on his old Dino Dan stuff from his birthday party a few years ago.
Julianne and Catherine get home at 4:30 and I tell them to hurry and get ready so that we can go with our neighbors trick r treating as a family at 5:00 to our small circle of houses. The big girls are going out with friends at 6 so this is the only time we will all be together. Although I am beginning to think Trent won't make it home at 4 like he said since it is already 4:30 and he hasn't called to say he is on his way home.
Then Julianne starts. Suddenly she doesn't want to be cleopatra. It is a stupid costume. Could I just take her shopping now to choose something new? I am seriously ready to lose it at this point. She was being ridiculous. At our ward's trunk r treat there was a younger girl in a cleopatra costume like hers and so now she refuses to wear it. I truly cannot understand the problem. I might have told her she was being extremely selfish, demanding, unreasonable, and a host of other things. She might have acted like a 2 year old crying, complaining and carrying on. It was like being in a true haunted house there for a little while. All of this so she could go collect candy????
At 5:00, the neighbors knock on the door and I send the 4 little kids out with Catherine pushing the stroller. Catherine has graciously gotten in her costume and helped Owen into his costume. She (the 10 year old) is now taking the kids trick - r - treating with the neighbors while I deal with the tantrum going on with the 12 year old. I can't even begin to tell you how maddening the whole thing was. I finally laid down the ultimatum -- cleopatra or bust.
Julianne emerged 20 minutes later with Cleopatra on and then wanted help with her make-up. I swallowed all of my anger did her makeup and ran out to find the rest of the kids. I found them and we went on for about 20 minutes before everyone was hot (it was 86 degrees), thirsty, and ready for a break. I went home got the van and picked up the big girls and Owen to drive them to a friend's house, brought water for Madelyn and Adam who stayed with the neighbor's while I dropped of the girls.
When I got back, Trent had gotten home. He agreed to get into his Han Solo costume as I was in my princess Leia costume, we drove and found the kids, our neighbors were tired so I drove them home, Madelyn had found a friend and I drove them to the friend's house to go with her family now, and then drove back to rejoin Trent and the little boys. From there it was the quiet enjoyable trick r treating I had imagined. Adam and Owen loved it. They were so cute. The evening was beautiful and we came home.
The boys played in the tub with their glow sticks and we answered the door to trick r treaters. Madelyn got home and had had a great time. The big girls got home and had had a great time.
Perhaps my expectations are just way too far off. I'm not used to the whole older kids mentality. I yearn for the simplicity of little kids. The saying is so true -- "little kids, little problems, big kids, ???" and I suppose it is not a "problem" but it is so very much the drama, the crisis mode, the inability to make them all happy with a little candy or a kiss. The reality that I can't make them "like" their costume that they chose. The reality that they would rather hang out with anyone but us.
Enoy the photos. I'm glad I have a year before Halloween rolls around again though.